Chai Coffee Cake And A Giveaway – Tartelette
Chai Coffee Cake And A Giveaway
31.10.2009

Helene Dujardin
(Senior Editor)
458 Comments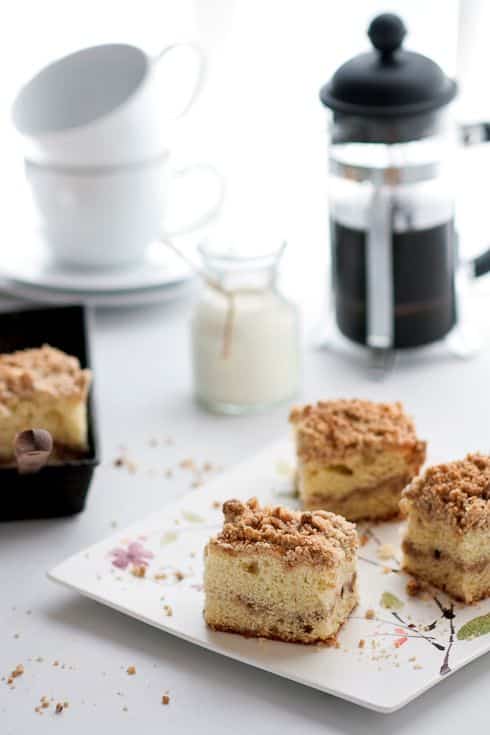 It won't be a surprise to say that there is always cake at the ready in the house. Whether it be for B. as a late night snack after a music job, friends dropping by on a late saturday afternoon, or simply as a quick snack as we pass by the kitchen. It's usually a variation of my grandma's yogurt cake. Always good. Always comforting. One cake I never make enough is coffee cake. You know, the kind with the lovely strudel top that is both crunchy and soft as you bite into it. But then Nicole's Chai Spiced Coffee Cake entered my life. Twice in one week. Three times a day, once.
I did not make it twice just for us and just because. You see, a couple of weeks ago, I received an email from a high school senior here in town, Haley, whose senior project was to recreate the Julie-Julia project but with David Lebovitz' Room For Dessert book. Haley asked if I would have a bit of time to give her some tips about running her blog chronicling the project, photography, writing, etc… I said yes. I remember when I started blogging that I was often looking up to my seniors for pointers (I still do at times) so I thought it was a great opportunity to give back to the blogging community. I am no expert but I have been at this blogging thing for a while now, eheheh.
And I love when life on the screen brings about wonderful little happenings like this!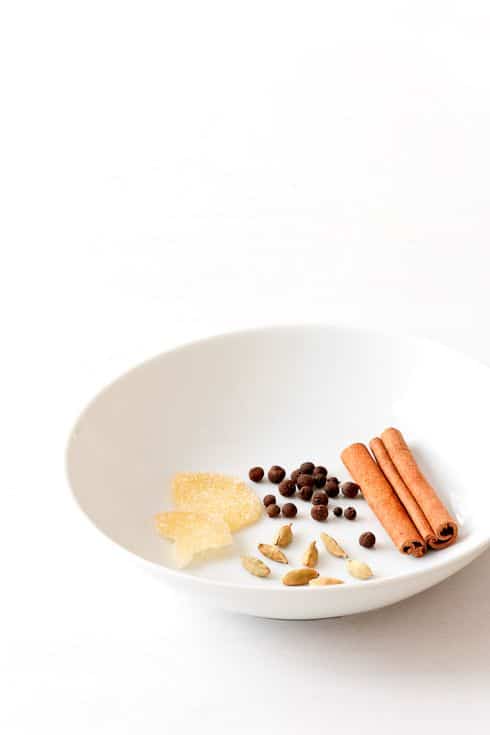 Anyway, I thought we'd have some cake and tea and get right into the nitty nifty gritty of blogging and pictures. Well, schedules got out of hands and I never got to make that Chai Coffee Cake for Haley. We did meet this week and spent a great afternoon. I hope I answered her questions, at least until next time we meet. I gave her tips on how to operate her point and shoot camera to the best of its capacity, tips on light, focus, etc…and let her play with my props. Hopefully, there will be cake next time we do this!
I love this cake on so many levels but first and foremost because it is one of the recipes that Nicole included in her newly released first cookbook, "The Baking Bites Cookbook". Nicole's Blog, Baking Bites is one of the handful of blogs I started reading prior to starting my own. We were "blog friends from afar" until we finally met at BlogHer Food in San Francisco. Nicole is as delightful and true as she is on her blog. I am so proud that she achieved one of her lifelong dreams by writing this book.
I bluntly asked her if I could feature one of her recipes and introduce some of you to her blog if you did not read it already and to her "baby", The Baking Bites Cookbook. She agreed. I bluntly added "hey! Would you be ok to give a copy to one reader?" and she said yes. So here you go: there is one free copy of this delicious book up for grabs. All you have to do is leave a comment on this post. The giveaway runs until Monday November 2nd, midnight US Eastern time and a reader will be chosen at random to receive a copy.
Given how good the Chai Coffee Cake was, I can't wait to bake more from Nicole's book!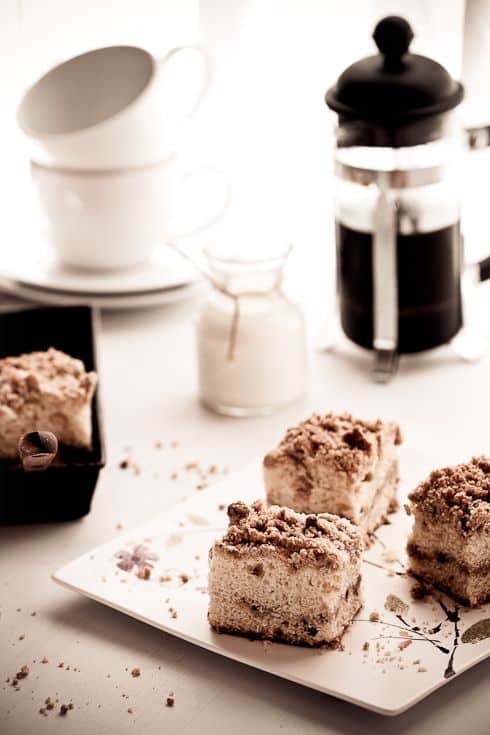 Chai-Spiced Crumb Coffee Cake, from The Baking Bites Cookbook with permission of Nicole Weston:
Cinnamon is the standard spice for topping a crumb coffee cake. This coffee cake keeps the crumb topping and spices it up a little more by using some of the same flavors that are found in chai, including cinnamon, ginger, cardamom and allspice. These spices really help to make the coffee cake memorable – and they also make you want to come back for a second slice.
Note: the only change I made to the recipe was to fill my baking pan with half the batter, sprinkle some of the topping and add the remaining batter and topping.
Topping:
1/3 cup sugar
1/3 cup brown sugar
1 teaspoon ground cinnamon
1/2 teaspoon ground ginger
1/2 teaspoon ground cardamom
1/2 teaspoon ground allspice
1/4 teaspoon salt
1 1/2 cups all purpose flour
1/2 cup butter, melted and cooled slightly
Cake:
1 3/4 cups all purpose flour
3/4 teaspoon baking powder
1/2 teaspoon baking soda
1/4 teaspoon salt
2/3 cup butter, room temperature
1 cup sugar
2 large eggs
1 1/2 tsp vanilla extract
2/3 cup sour cream, full or low fat
Preheat oven to 350F. Line a 9-inch square baking pan with parchment paper or lightly greased aluminum foil.
Make the Topping:
In a medium bowl, combine all topping ingredients except butter. Whisk to blend.
Gradually stir in the melted butter, using a large fork or spatula to mix. When all the butter has been incorporated and the mixture looks like wet sand, squeeze small clumps together to make large crumbs ranging in size from that of a pea to that of a grape. Set aside.
Make the Cake:
In another medium bowl, whisk together flour, baking powder, baking soda and salt.
In a large bowl, cream butter and sugar together until light. Beat in eggs, one at a time, followed by vanilla extract. With the mixer set on a low speed (or by hand), alternately add in flour and sour cream in two or three additions. When no streaks of flour remain, pour into prepared pan. Top evenly with crumb mixture.
Bake at 350F for about 45 minutes, or until a toothpick inserted into the center comes out clean.
Cool on a wire rack before slicing.
Serves 9-12