Dark Chocolate Financiers – Tartelette
Dark Chocolate Financiers
10.09.2007

Helene Dujardin
(Senior Editor)
41 Comments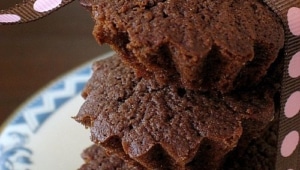 I can hear you read the title "No Helen! Not another Financier recipe….please!" I know, I know, I have made them plenty of time myself, I have also seen them successfully baked and talked about on other blogs, so why would I subject my house to the wonderful aromas of dark chocolate and almonds on a sunday afternoon? To help a reader in search of a good recipe, that's why… About a month ago, I received an email from A. asking me if I had a good recipe, easy enough for her to reproduce for dark chocolate financiers she had sampled at a local bakery and especially for a version in which the chocolate was not overpowering, but just "in the right amount".
First, I felt very flattered that a reader would come out and ask for help (everyday somebody new comes out of lurkdom, and that is always appreciated). Then I thought I had the perfect excuse to bake and sample many variations of one of my favorite mini cakes as I don't lack financiers recipes. I could not tackle this project right away as I was entertaining a guest last month (and I have to admit, myself at the same time) and we had already decided on a few items to bake together. I decided that this past week was the perfect time to try different chocolate financiers recipe and finally nailing the one that had the perfect balance of chocolate to pastry. I know that everybody's taste vary greatly in that regard but I think I have achieved success and hope that A. likes the outcome as much as we did.
I found a great recipe in a magazine I brought back from home this past Christmas and it was already adapted from Master Chocolatier Jean Paul Hevin. With such a source I felt confident to be steered in a good direction. Financiers are so easy to make, only the name makes them seem fancy. Not having the classic rectangular molds to make them (but they are on their way…thanks mom!), I used mini rectangular tart molds. Really people, do not hesitate making a recipe just because you do not have the "appropriate" or "classical" pans….what is more important?….Taste! Right!
I also made a hapy discovery while baking and sampling various recipes. Financiers are traditionally made with ground almonds and somehow in the middle of all that baking frenzy, I ran out….well, I found out that ground graham crackers make a suitable substitute, (in the same quantity) when you are in that predicament.
both in taste and flavor….who would have thought?! Anyway, on with the recipe…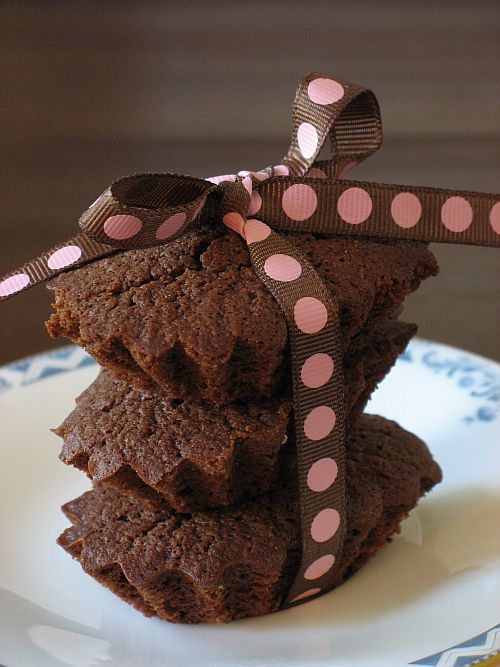 Dark Chocolate Financiers, adapted from Jean Paul Hevin:
Makes 12-16 depending on your molds
150 gr. semisweet chocolate chips (or chopped block)
150 gr. heavy cream
55 gr. powdered sugar
60 gr. butter (melted)
40 gr. flour
40 gr. ground almonds
1/2 tsp. baking powder
3 egg whites
It is best to do everything by hand as you can control the folding of all the various ingredients better, and really it requires only a minimum of elbow grease.
In a heavy bottom saucepan, heat the cream to boiling point, pour over the chocolate and let sit for 2 minutes. Gently stir to melt the chocolate and cream together until smooth.
In a separate bowl, combine the powdered sugar, flour, ground almonds, baking powder.
In a small bowl, beat the egg whites for a minute, just to break them up. Add them to the flour mixture carefully, before they are completely incorporated, add the melted butter. Finally, fold in the chocolate/cream mixture and fold until smooth.
Divide the batter into the molds (preferably coated with cooking spray or buttered), and bake at 350F for 15 to 20 minutes, depending on your oven.
Let cool 5 minutes before you unmold them.
Well, the only issue I have with this recipe is that it does not make enough!!! So, A. I hope you get to try them soon and tell me what you think.