Lemon Poppy Seed Cake With Meyer Lemon Mousse – Tartelette
Lemon Poppy Seed Cake With Meyer Lemon Mousse
12.01.2009

Helene Dujardin
(Senior Editor)
109 Comments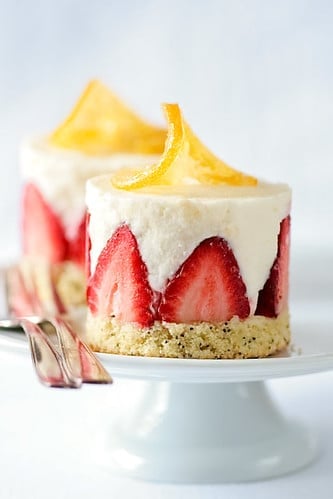 If you love a woman and are reading this blog, married, mated or single, this might help you understand her a tiny bit better: surrender. When she sees everything in chocolate, surrender. When she wishes for double cream in her eclairs, surrender. When she sneaks that last piece of caramel cake for a late night snack, surrender. Every month I go through a one week citrus fest and B. surrenders. I can't get enough vitamin C in my body and he laughs at the dessert scenarios I create to get my fix. He does not seem to mind the latest onslaught of Key lime mousse, grapefruit sorbet, citron givre and this Lemon Poppy Seed Cake topped with a Meyer Lemon Mousse. The strawberries…I thought the touch of red would tell him I love him too (wink).
I love when it happens in the middle of winter since the selection could not be more perfect. I guess there could be worse cravings than this, right? Mine usually veer to chocolate and stinky cheeses after 4 days but after 10+ years together, B. knows, and as long as I don't combine some stinky Livarot and chocolate cake at the same time, (not that I ever did or will), he's pretty happy with the dessert choices. Most days are simple like half a grapefruit sprinkled with a little sugar and quickly broiled for a little sweet crust, fresh orange slices and mint salad. Some days it is a bit richer and then we split or we take it next door and share. Knowing that there is a gathering of some sort almost every Saturday around here, I made these individual cakes not knowing for sure their upcoming fate. Will they be all mine? Nah….! They helped a good game of Scrabble with our good friends last until the wee hours of the morning.
The cake base is a straightforward lemon poppy seed cake jazzed up with Meyer lemon zest and juice. Why Meyer lemon? It's mild, fragrant without being offensive to your palate or your stomach. Next to my childhood "citron de Menton" (which we celebrate almost as much as Carnival), this is the one that sends me into citrus heaven so when they started popping out at the stores, I hoped, skipped and jumped…Feel free to use any other kind. The mousse base is a simple diplomat cream (pastry cream based) with lemon juice and more zest added. I did save half a lemon to candy some slices for decoration and almost slapped myself for not making more…they were so good on their own. The recipe may look like a lot of work but really beside making the cake and the mousse, the rest is assembly.
Lemon Poppy Seed Cake With Meyer Lemon Mousse Recipe:
Kitchen Note: You can build this cake as one 8-inch round cake if you do not have cake rings, or three 4-inch round individual springform pans. The cake won't be as tall built in an 8 inch so I'd advise doubling the mousse recipe. You can also do what I tend to do and recycle cans of tuna, wash them well, remove the top and bottom lids and line them with parchment paper or film strips like you would with purchased rings. I am also known to recycle soup cans if I need to build tall individual desserts. The ones I used here were 3 inches wide and 2 inches tall.
For the cake:
1 1/2 cups (185gr) all purpose flour
1 cup (200gr) sugar
1 tablespoon (14gr) baking powder
1/4 (1.5gr) teaspoon salt
1/2 cup egg whites (about 3-4)
3/4 (175ml) cup milk
1/4 cup (62.5ml) lemon juice
grated zest of one lemon
1 tablespoon (9gr) poppy seeds
1 stick (113gr) butter, melted
Preheat oven to 300F. In a bowl, combine all the dry ingredients for the cake. Set aside. In a separate bowl combine the egg whites and the milk. Make a well in the center of the flour mix and slowly add in the egg white mixture while stirring with a whisk. Add in the lemon juice, zest, the poppy seeds and the melted butter. Mix with a whisk until smooth. Line a half sheet pan or a 9×13 inch pan with parchment paper, lightly spray with cooking spray and pour in the batter. Bake for 20 minutes or until a toothpick inserted in the center comes back clean. Let cool and cut out six 3-inch rounds to fit your cake rings. Line 6 cake rings with parchment paper or rhodoid (pastry film, but cut sheet protectors work well too), secure with tape if necessary and place your cake bases at the bottom. Place the cakes on baking tray. Set aside.
Soaking syrup:
In a small saucepan set over low heat dissolve 1/4 cup lemon in 1/4 cup of water with a couple of tablespoons of sugar. Let cool to room temperature and brush the cake rounds with the syrup.
Strawberries:
1 to 2 cups strawberries
Quickly wash the strawberries, pat them dry and slice into 1/8 inch to a 1/4 inch thick slices and line the cake rings with them. Set aside.
Meyer Lemon Mousse:
1 1/2 teaspoons (3 sheets) gelatin
2 tablespoons (30ml) cold water
1 1/4 (310ml) whole milk
1/2 vanilla bean, split lengthwise and scraped (throw the seeds in the pot with the milk)
3 large egg yolks
1/4 cup (50 grams)sugar
1/4 cup (40 gr)cornstarch
1/4 cup (62.5ml) lemon juice
2 tablespoons lemon zest
1 cup (250ml) heavy cream
In a ramekin, sprinkle the gelatin over the water and let stand until you prepare the cream. In a medium bowl, whisk the sugar and egg yolks together, add the cornstarch mixing until you get a smooth paste. Set aside.
Meanwhile in a saucepan combine the milk and vanilla bean on medium heat until boiling. Remove from heat and add slowly to egg mixture, whisking constantly to prevent curdling, (pour through a strainer if this happens). Remove vanilla bean. Place the egg mixture back into a medium saucepan and cook over medium heat until thick, stirring constantly. Add the lemon juice and zest, cook another 30 seconds and remove from the heat. Immediately add in the gelatin and stir until completely dissolved. Place a piece of plastic wrap on the surface of the cream so that it does not develop a skin as it cools to room temperature.
Whip the heavy cream until stiff peaks form and gently fold it into the pastry cream. Pipe or spoon the mousse immediately in the cake rings, level the top with an offset spatula and refrigerate. If you have any leftover, spoon into dessert dishes or glasses for quick snack.
To garnish:
candied lemon slices (tried this recipe just the other day, works very well)