Shrimp and Grits & Good Time Working With Friends – Tartelette
Shrimp and Grits & Good Time Working With Friends
14.11.2012

Helene Dujardin
(Senior Editor)
16 Comments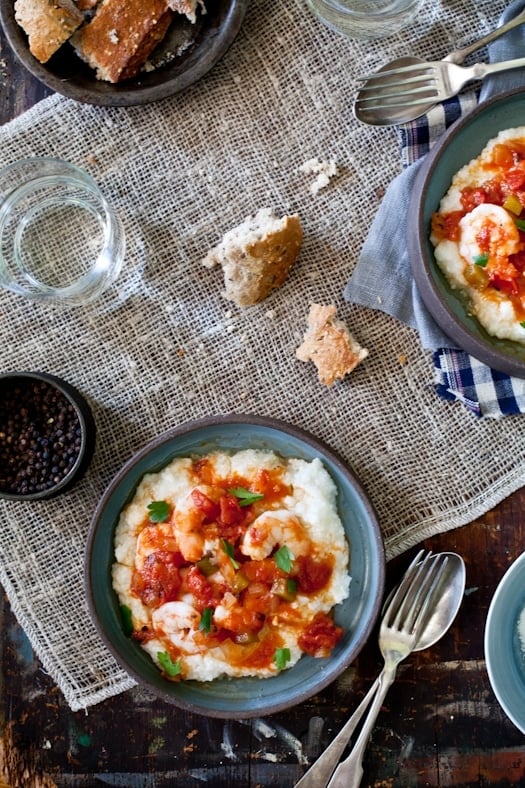 Version with a parsley garnish.
The workshops are over and I find myself immersed into work mode as I unpack my stuff here in Birmingham. I drove home today with ample time to reminisce and reflect along the stretches of forestry and marsh land before me. It was really the first time that I had some alone time with my own thoughts. It was energizing and restful at the same time.
 

Tami styling.
It's good to be back in the city and get back to work this morning. I am calling it home. It's where we are building something now. Where I am continuing to set a standard and gratifying work for myself and where our family of two + furballs will establish a new path.
 

Tami's Brushes.
It's good to also take time off to recharge one's creative batteries with collaborations and associations. I was so glad we were able to bring Tami, a pro food stylist in Atlanta to this past weekend workshop in Charleston. I have worked with Tami on personal and professional projects before and I knew that the attendees would get so much from a couple of styling sessions with her.
 

Working with stand-ins before the final dish is ready. Photo Courtesy of Laura Vein.
I had the privilege to do a demo with Tami, as one of our photo shoots of the weekend and after thinking about doing pasta, or drinks, or pie, I finally suggested Shrimp and Grits. She approved. And we had a blast. Working with people who know their craft and are here to share and have a good time while doing it is a blessing.
Here are some images from our demo together on shooting Shrimp and Grits. The recipe is right after the jump.
 

Version without garnish.
Thank you Tami for making the time to join us and workshop with us!
Shrimp And Grits (adapted from Martha Stewart) 
Ingredients
1 cup coarse grits (non quick cooking)
Salt
3 tablespoons unsalted butter, divided
1/2 small onion, chopped 1/2 green bell pepper, diced
1 can (14.5 ounces) diced tomatoes, in juice
1/4 cup chicken broth or water
1 pound frozen large shrimp (31 to 35), thawed, peeled, and deveined (tails left on)
1/4 cup lime juice (from 2 limes) (or lemons)
Directions
In a medium saucepan, bring 4 1/2 cups water to a boil over high; season with salt and pepper. Whisk in grits; reduce heat to medium-low. Cover, and cook, whisking occasionally, until grits are creamy and tender, about 30 minutes; stir in butter.
Meanwhile, in a large skillet, melt 1 tablespoon butter over medium. Add onion and tomatoes (with juice); cook, stirring, until scallions are tender, 4 minutes. Add broth and bring to a simmer. Add shrimp and cook until opaque throughout, 3 minutes. Stir in lime juice and remaining 2 tablespoons butter and cook until sauce is slightly thickened, about 2 minutes. Season with salt. Top grits with shrimp and sauce.