Swirly Macarons And A Birthday – Tartelette
Swirly Macarons And A Birthday
20.03.2008

Helene Dujardin
(Senior Editor)
110 Comments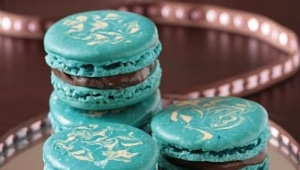 I guess I really can't be left alone… or my mind start playing tricks on me. Last Sunday I was working on a wedding cake for a friend of mine getting married this coming weekend when she called and asked me for the thousandth time if I had also started working on her wedding favors. "Yes" I replied "and may I add that I must really love you and F.?" "Why is that?" she asked… "because of all that blue…I think I am losing my mind". The theme of her wedding is a beach/lagoon sea and ghastly as I found her idea to have a lot of blue, I agreed to do it all, including macarons for wedding favors. Why can't I be left alone? Well, it seems that my brain has short circuits because not only did I agree to make a lot of them (300) I started playing on the ocean theme and decided to swirl the white and blue batters together and ended up with these Swirly Macs. I think I had moment of lucidity when I decided to only swirl half the bunch and sandwich them with a plain side. Half a genius is still better than none!!
It is funny but the more I am swirling them the more they are growing on me. And that is where the second part of the post comes in. Today is my wonderful brother's birthday. His name is Arnaud and I guess that like the macarons, the more we were hanging out together the more we were growing on each other. He is a wonderful guy, husband and father to my two precious little nieces and all around awesome dude and cook. I never realised how much I loved him until a few years ago when B. and I went back to France for Christmas. We visited him and his wife before they had the girls and we went out one night together to share a good cassoulet. We sat there and I had the most overwhelming feeling in my heart. I was sitting across from him, staring at this grown up man with a wedding ring on his fingers, talking to my husband in such a warm and natural manner. He loved me. I could not stop the tears. I loved him back.
We could not be more different in characters and lifestyle and growing up we were seriously harsh on each other but we shared so much in the past few years that we know now how to love and respect each other. I know losing our brother to cancer was a tough wake up call, but so were the births of his children, the distance between us and the other events marking our family. Today I want to publicly wish him a "Joyeux Anniversaire" and show him that our relationship may be as swirly as those macarons sometimes but he is the other half of me. Yep, the same guy who bit a chunk out of my thighs when I was 4 and I was probably getting right nerve under his last nerve (I still have the mark, no lie).
Let's all wish him a Joyeux Anniversaire Arnaud! Mille bises de nous tous!
I wish I could send them overseas but I can't…they will however be part of a small gifts table at my friend's wedding. I think I will save some and send them to Danielle who is hosting Sugar High Friday this month with the theme of Sweet Gifts (and I am not only speaking of the virtual world:))


Swirly Macarons With Bittersweet Chocolate Ganache:
For the Macarons:
3 egg whites (I like to use 2-3 day old egg whites)
50 gr. granulated sugar
200 gr. powdered sugar
110 gr. ground almonds
2 Ts blue powdered food coloring
For the whites: the day before (24hrs), separate your eggs and store the whites at room temperature on a covered container. If you want to use 48hrs (or more) egg whites, you can store them in the fridge.
In a stand mixer fitted with the whisk attachment, whip the egg whites to a foam, gradually add the sugar until you obtain a glossy meringue. Do not overbeat your meringue or it will be too dry and your macarons won't work. Combine the ground almonds and powdered sugar in a food processor and give them a quick pulse. It will break the powdered sugar lumps and combine your almonds with it evenly. Add them to the meringue, give it a quick fold and remove some of the batter that will remain uncolored. Add 2 TB food coloring to the rest and fold the mass carefully until you obtain a batter that flows like magma or a thick ribbon.
Give quick strokes at first to break the mass and slow down. The whole process should not take more than 50 strokes. Test a small amount on a plate: if the tops flattens on its own you are good to go. If there is a small beak, give the batter a couple of turns. Do the same for the plain batter.s
Fill a pastry bag fitted with a plain tip with the batter and pipe small rounds (1.5 inches in diameter) onto parchment paper baking sheets.
With a toothpick dab dots of the plain batter and swirl.
Preheat the oven to 300F. Let the macarons sit out for an hour to harden their shells a bit and bake for 8-10 minutes, depending on their size. Let cool.
If you have trouble removing the shells, pour a couple of drops of water under the parchment paper while the sheet is still a bit warm and the macarons will lift up more easily do to the moisture. Don't let them sit there in it too long or they will become soggy. Pipe or spoon some ganache on one shell and sandwich with another one.
If you use fresh whites, zap them up in the microwave on medium high for 20 seconds.
Bittersweet ganache:
3/4 cup heavy cream
1 cup bittersweet chocolate
In a heavy saucepan set over medium heat, bring the heavy cream to a boil. Remove from the stove and add the chocolate to it. Let stand 2 minutes and then stir until fully combined. Let cool until firm enough to put in a small piping bag.


Notes: Today march 2oth is the "Journee du Macaron" when numerous pastry shops around France, Swiss and Belgium offer free samples all day long! Lucky you's!!!
I receive a lot of emails about breaking the code of making macarons and I am working on a tutorial with step by step pictures. Coming soon!